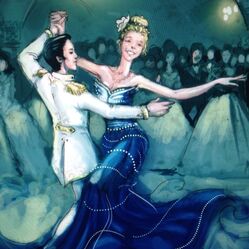 Cinderella is the minor character in The Last Ever After and a member of the League of Thirteen. Her full name is Ella of Maidenvale.
She is the main protagonist in the French fairy tale Cinderella.
Personality
Cinderella, despite having a Good heart, is demanding, grumpy, ill-tempered and easily angered. She will not hesitate to belittle others, especially Agatha and Tedros.
Appearance
History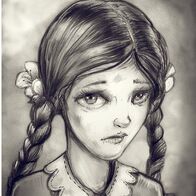 School Days
Fairy Tale
Cinderella's fairy-tale was not as it seemed. She actually loved her stepsisters, and they loved her back. She never wanted to marry Prince Kladeen. Her initial plan was for one of them to marry him, and to live alongside them in the castle. Because of this "betrayal," her stepsisters lose their bond with her.
The Last Ever After
She is portrayed in the School for Good and Evil series, is a member of the League of Thirteen. This League is comprised of famous fairy-tale heroes who have survived to an elderly age. During the series, Cinderella is shown as obese, demanding, and fiery-tempered.
At first, she is apprehensive about the idea of Agatha and Tedros helping the League somehow, but soon warms up to it. While preparing for battle, Agatha is forced to pair up with her (something she is not happy about) and eventually learns they have a lot in common. They even share the same fairy godmother, Professor Clarissa Dovey.
Cinderella is killed battling Rafal's forces. She sees her zombie stepsisters and runs to them, looking hopeful and happy again, and they do the same. In the end her zombie stepmother kills her with an axe and the barrier between Gavaldon and the Endless Woods breaks.