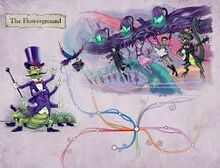 The Flowerground is a magical train station that transports Good and Evil passengers to various magical locations. Evers and Nevers are separated into lines categorized by flower and plant or tree names. Regardless of whether they are for the Good or Evil, trains are called flowertrains. Flowertrains made completely out of living plant material.
Staff
The Flowerground is fully staffed by magical animals.
Flower Lines (Good)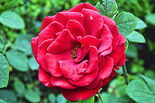 The Ever lines of flowertrains are divided by gender and are named after various flowers. Each line is primarily one color.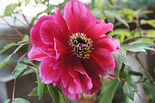 Known lines consist of:
Male
Female
Top 15 ranked students:
Tangerine Line (Orange)
Violet Line (Purple)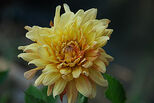 Flower Lines (Evil)
The Never lines of the flowertrains are named after various plants and trees. It is unclear whether they are divided by gender like in the Ever lines.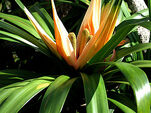 Known lines consist of:
Hibiscus Line (Blue)
Funny facts
"Rosalinda" is a combination of the Spanish words rosa, "rose", and linda, "beautiful." This is ironic seeing as the only passengers seated in the line are "glum, scraggly-looking men."
"Arborea" is a Latin adjective meaning "tree-like" plant. Many ferns and long-branched plants have arborea in their scientific names.
Entrace
Upon entering the Flowerground, a Flowerground pass must be handed to a blue caterpillar in a tuxedo who will then let you in. However, before you board, the caterpillar will read out the rules: "No spitting, sneezing, singing, sniffling, swinging, swearing, slapping, sleeping, or urinating in the Flowerground, violations will result in removal of your clothes. All aboard!"