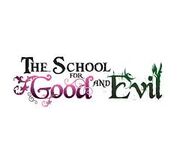 Here you will find reveiws and new info involving the School for Good and Evil, and much more! Have fun!
"It's going to be a Trilogy"
Edit
Soman Chainani made it offical that he is definetely going to write three books about SGE!!! The title of the second book is A World without Princes. It came out on April 15th!
Yep, Soman Chainani, the amazing author of SGE, decided to sign a contract with Universal Pictures and make the SGE trilogy into movies! The movies (just like the books) are going to be seperated into three or four movies, all being released from 2013-2016. Joe Roth and Jane Startz will produce it, while Mailia Scotch Marmo and Soman Chainani himself will be the screenwriters. Hopefully, the author being the scriptwriter will prevent the story from changing too much!
The Second Book
Edit
The second book is called A World without Princes and the cover of this book iwas released in August 2013 Here's some info on what a world without princes is about: http://www.harpercollins.co.uk/Titles/81422/the-school-for-good-and-evil-(2)-world-without-princes-soman-chainani-9780007502813
The Third Book: The Last Ever After
Edit
This will be the 3rd book in the series.
More tours are coming up!
If you wish to contact Soman, here is all his info, just don't go too crazy ;-)
Email: somanchainani@gmail.com
USA Mailing Address
Creative Artists Agency
2000 Avenue of the Stars
Los Angeles, CA
424.288.2000
UK Mailing Address
Sayle Screen
11 Jubilee Place
London SW3 3TD
United Kingdom
+44 20 7823 3883
Ad blocker interference detected!
Wikia is a free-to-use site that makes money from advertising. We have a modified experience for viewers using ad blockers

Wikia is not accessible if you've made further modifications. Remove the custom ad blocker rule(s) and the page will load as expected.